Lead-Safe Work Classes
Para información en Español hágale un clic aquí.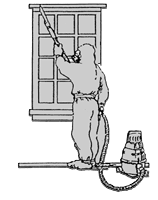 Under Federal Environmental Protection Agency (EPA) rules, anyone conducting renovation, repair or painting work for compensation in a pre-1978 residence, childcare facility or school must be trained, EPA certified, and use lead-safe work practices. This rule includes rental property owners and property managers. For more information about the EPA Renovation, Repair and Painting rule (RRP) go to www.epa.gov/getleadsafe.
Under State of California law it is a violation for anyone to use work practices that create a lead hazard.
Where Can I Get Training?
For information about California Department of Public Health Lead-in-Construction program certification and a list of state-accredited training providers, please go to: http://www.cdph.ca.gov/programs/CLPPB/Pages/LRCNav.aspx
* Portable Document Format (PDF) file requires the free Adobe Reader.