Lead-Safe Work Classes
Para información en Español hágale un clic aquí.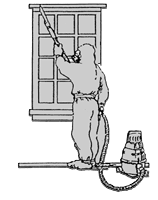 Lead Safety and Training Requirements
Under State of California law it is a violation for anyone to use work practices that create a lead hazard.
Under the Environmental Protection Agency's Renovation, Repair and Painting (RRP) Rule, for most projects that disturb paint where the person is working for compensation in a pre-1978 residence, lead-safe work practices must be used, and an EPA Lead Certified Renovator must oversee the work. This rule also applies to childcare facilities or schools where children under six spend time. This rule includes rental property owners and property managers and their employees doing work on their own properties. For more information about the EPA Renovation, Repair and Painting rule (RRP) and the type of work it applies to, go to: www.epa.gov/getleadsafe.
Free Lead Safety Training for Alameda, Berkeley, Emeryville, and Oakland Property Owners
Free one-day EPA Renovation, Repair and Painting Lead Safety Training is available for owners and property managers of pre-1978 residential properties in the cities of Alameda, Berkeley, Emeryville and Oakland. If you own or manage a pre-1978 residential property in one of these four cities, e-mail LeadTraining@acgov.org with your name, e-mail or phone number, and the address of the qualifying property to find out about upcoming training opportunities.
California Lead-Related Construction Training
For information about California Department of Public Health Lead-in-Construction program certification and a list of state-accredited training providers, please go to: http://www.cdph.ca.gov/programs/CLPPB/Pages/LRCNav.aspx
* Portable Document Format (PDF) file requires the free Adobe Reader.